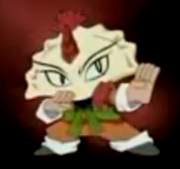 Based on: shrimp gyouza
Shrimp Daddy (Japanese name Ebimusha) is Davy Gravy's Foodon. It is based on deep-fried shrimp and is one of the few Foodons used to make Feastivus.
Shrimp Daddy is given to Chase by former pepper agent Davy Gravy after chase and friends stoped Clawdia and Grill's attack on DG's house
Description: Shrimp Daddy has some kind of a dumpling with shrimp in it, he has long eyebrows a red shrimp sticking in out of his forehead, he has the body of a martial artist with a green karate belt.
Powers and Abilities: Karate and other forms of martial arts.
Ad blocker interference detected!
Wikia is a free-to-use site that makes money from advertising. We have a modified experience for viewers using ad blockers

Wikia is not accessible if you've made further modifications. Remove the custom ad blocker rule(s) and the page will load as expected.