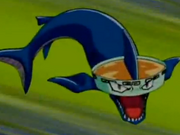 One of
Chef Jack's
Foodons. The only time he was used by Jack was to cause interest in the fishing competition between Chase and Coco.
Description: Shark-Fin is a blue shark with a bowl of the actual soup for a head, eyes on the bowl, and the shark's jaw on the bottom of it.
Powers and Abilities: Shark-Fin swims at great speeds and headbutts his opponents. its a definant that Shark-Fin Soup will chomp down on his opponents in normal battles. Its been discussed that Shark-Fin's tail could actualy be a steel blade that he can use as a lethal weapon.
Based on: Shark fin soup
Bistro Recipe
Edit


Based on
shark fin soup
. Class 3 soup-type.
Recipe:
Unlock:
From then on:
スープsuupu (soup)
たまごtamago (egg)
フカヒレfukahire (sharkfin)
Attacks:
スプンたたきsupuntataki
ラッシュrasshu (rush)
フカスピンfukasupin (shark soup spin?)
ひたしわざhitashiwaza
Ad blocker interference detected!
Wikia is a free-to-use site that makes money from advertising. We have a modified experience for viewers using ad blockers

Wikia is not accessible if you've made further modifications. Remove the custom ad blocker rule(s) and the page will load as expected.