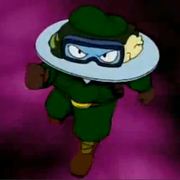 Based on: beans and mashed potatoes (but in some dubs he is based on green curry.)
Used by
Clawdia
, along with
Noodle-ator
and
Applegator
, to kidnap the team's Foodons and hold them for ransom in order to get the diamond mushroom from them.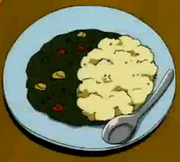 Description
Edit
He has the body of a military commander in camouflage and a plate of beans and mashed potatoes for a head; he also wears goggles (sunglasses in the games).
Powers and Abilities
Edit
He uses military tactics to fight (mostly booby traps). In the games, he has possession of a machine gun of some sort. In the show he shoots spicy sauce out of his sniper.
Bistro Recipe
Edit
Ad blocker interference detected!
Wikia is a free-to-use site that makes money from advertising. We have a modified experience for viewers using ad blockers

Wikia is not accessible if you've made further modifications. Remove the custom ad blocker rule(s) and the page will load as expected.