Based on: Pudding (specifically caramel custard)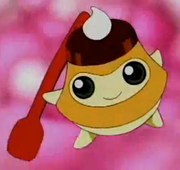 Summary: Puddington is a dessert Foodon used by Miss
E. Claire
to fight against
Chase
and his
Fried Ricer
. She looks like a small, tan creature wearing caramel pudding with a scoop of cream on top. It has tiny appendages, big cute eyes, and holds a tiny red scoop spoon.
Powers and Abilities: Puddington is cute, but very weak. She fights with a tiny red spoon, floating around and throwing her cream scoop. This is perhaps a method of blinding opponents. She is also capable of performing headbutts.
Bistro Recipe
Edit

Based on pudding (specifically
caramel custard
).
Recipe:
Unlock:

Received upon defeating Romanoff, for the second time, at Washin Tou in New Rourke.

From then on:
Variations:
Attacks:
lvl 1: チルドchirudo (chilled)
lvl 12: つめたいかぜtsumetai kaze (freezing wind) [typed]
コチコッチンkochikocchin [typeless][FRZ]
Topping effects:
あまいものamai mono (sweet things) = 三位一体