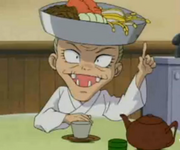 Based on: Jambalaya (originally Bibinba, a Korean dish)
Grandmother of Tureen and member of the Hot Peppers, a secret organization of rebel spies determined to overthrow the corrupt dominion of the Glutton Empire.
Bistro Recipe
Edit

In the games, Jambalydia was a Foodon. Yes, seriously. Take a moment to collect yourself before you read on, if you need to.
Like her granddaughter Tureen, she appeared as a Foodon in the video games. Therein, she was based on bibimbap, a Korean dish of sautéed and seasoned vegetables on warm white rice with chili pepper paste.
Class 2 rice-type.
Recipe:
Unlock:
From then on:

はくさいhakusai (Chinese cabbage)
とうがらしtougarashi (red peppers)
こめkome (rice)
Attacks:
ラッシュrasshu (rush)
したヒリヒリshita hirihiri
ビビビームbibibiimu (bibibeam)
こうしゅうはkoushuuha
くさいガスkusaigasu
In The Manga
Edit
She appeared in the manga as well, but she was less important in the manga than in the show.
Ad blocker interference detected!
Wikia is a free-to-use site that makes money from advertising. We have a modified experience for viewers using ad blockers

Wikia is not accessible if you've made further modifications. Remove the custom ad blocker rule(s) and the page will load as expected.