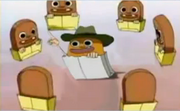 A mob of fried Foodons sent to delay Chase and the gang from interfering with the activation of the Butcherbot. They attack with simple body slams.
There was one western Hash Bomber that was seen in the Foodon Banditos.
Based on: hash browns (croquettes in Japanese)
Bistro Recipe
Edit
コロック Croquette


Based on a
croquette
or more specifically, a
korokke
. This is a Japanese adaptation of the Portuguese recipe for
croquettes
and as such is labeled as
youshoku
in-game. Class 1 fry-type.
Recipe:
パンこpan ko (bread crumbs)
じゃがいもjagaimo (potatoes)
Variations:
Ad blocker interference detected!
Wikia is a free-to-use site that makes money from advertising. We have a modified experience for viewers using ad blockers

Wikia is not accessible if you've made further modifications. Remove the custom ad blocker rule(s) and the page will load as expected.