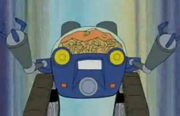 Based on: Chinese shrimp and noodles (originally kata yakisoba).
One of Clawdia's Foodons.
Powers and Abilities: Can shoot homing missiles from the cannons on its back and has extending arms.
Description: Digestor is a blue robot Foodon with headlights that act as its eyes. It navigates on caterpillar tracks and has two extending arms with three claws on each hand, as well as a pair of cannons on its back. Finally, a strong glass dome on its head keeps its brain (the noodles its made from) safe from harm.
Bistro Recipe
Edit

Based on kata yakisoba, which is a crunchy kind of
yakisoba
served with
ankake
, which is a thick sauce (no real translation/Western equivalent). "Kata" means
hard
, so the process involves pre-steamed yakisoba noodles that are then deep-fried until crunchy.[
1
][
2
]
Class 2 ramen-type.
Recipe:
Unlock:
From then on:
Variations:
Ad blocker interference detected!
Wikia is a free-to-use site that makes money from advertising. We have a modified experience for viewers using ad blockers

Wikia is not accessible if you've made further modifications. Remove the custom ad blocker rule(s) and the page will load as expected.