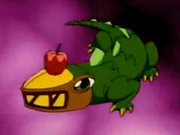 He was one of
Clawdia
's Foodons. It was used in a 4Kids contest where the viewers had to look for Applegator's appearances on other shows.
Description: An alligator-bodied Foodon, its head is a slice of pie with an apple on top.
Powers and abilities: He generates tidal waves and swats enemies with his tail.
Based on: Apple pie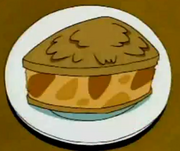 Ad blocker interference detected!
Wikia is a free-to-use site that makes money from advertising. We have a modified experience for viewers using ad blockers

Wikia is not accessible if you've made further modifications. Remove the custom ad blocker rule(s) and the page will load as expected.